Provides a broad spectrum of nutrients specifically selected to support the eye function—No other product on the market offers this comprehensive set of nutrients
Mixed carotenoids along with preformed vitamin A naturally sourced from palm tree fruit

Therapeutic doses of lutein and zeaxanthin esters from natural plant sources
Increased levels of riboflavin and methylcobalamin, crucial for healthy homocysteine metabolism
Bilberry extract, standardized to 36% anthocyanins
Taurine is included for its role in supporting retinal health
Patients in poor health may have difficulty converting beta carotene into vitamin A. For this reason, I like to include preformed vitamin A.
Generous amounts of riboflavin and methylcobalamin, since they are crucial for healthy homocysteine metabolism. Research tells us that high homocysteine levels aggravate many eye conditions.
Therapeutic doses of lutein and zeaxanthin esters, shown to be better absorbed than their non-esterified counterparts, all great for macula health.
Bilberry (standardized to 36% anthocyanins), which has been shown in research to work 2-4 times better than placebo at improving ocular fatigue, dimming eyesight, and vision with sparks
Taurine, as a deficiency in this amino acid has been shown to lead to retinal degeneration. Taurine supplementation has been used with some success to prevent, treat and stabilize retinal changes.
Helps neutralize exposure to toxins, ultraviolet light from the sun, and free radicals which can all do major damage to the eye. The simple act of letting light pass through the eye and hitting the retina increases the exposure of eye tissue to a range of different light- generated free radicals. For this reason, it makes sense to optimize intake of eye-nourishing nutrients, especially as we age.
This formula is a comprehensive formulation containing a vast array of eye-supportive nutrients, including lutein, zeaxanthin, bilberry, Ginkgo biloba, curcumin, green tea, taurine, lipoic acid, vitamin A, and mixed carotenoids including beta carotene. This product does not contain synthetic carotenoids, as research shows that natural carotenoids offer a superior spectrum of benefits.
Dosage: 2 Capsules per day
*These statements have not been evaluated by the Food and Drug Administration. This product is not intended to diagnose, treat, cure or prevent any disease.

Affiliate Program: This discount program is open to any health professional or retail store that would like sell my products. Contact us at hello@drsamberne.com. 1-877-239-3777
All sales are final. Sorry no refunds.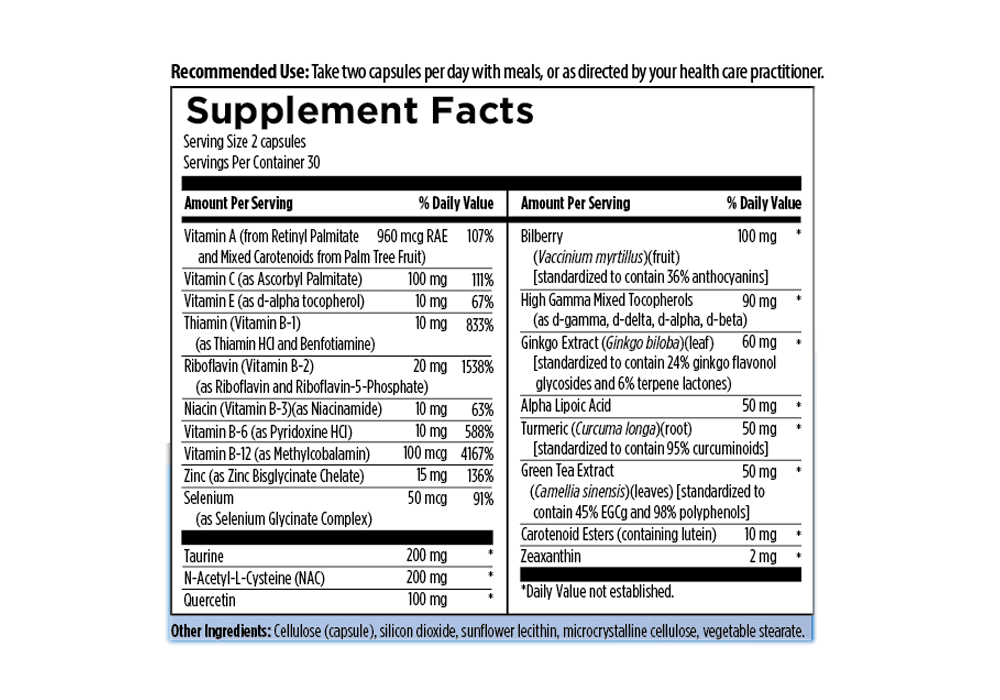 HOLISTIC OPTOMETRIST
Dr. Sam Berne's mission is to be your trusted source of information and provide the necessary tools to help solve eye-related problems using science-based methods. Instead of living out your diagnosis and immediately turning to surgery or pharmaceuticals, Dr. Berne offers a road map to help deepen the connection to your eyes and increase your health.
OVER 400,000 PEOPLE CLAIMING THEIR EYE HEALTH
With over 400,000 people claiming the effectiveness of Dr. Sam Berne's products, techniques, and exercises, you will receive a holistic method of healing your eyes. Find out why so many people are raving about Dr. Sam Berne's products.
Dr. Berne's Whole Health Eye Formula
Customer Reviews
28/04/2021
Susan H.

United States
So thrilled found Dr. Berne
I have dry eye syndrome after lasik surgery 10 years ago and wanted a pure eye supplement to boost my eye health as much as I could. I feel this is the product. I am on my second bottle and will continue to purchase. Thank you so much Dr. Berne!
27/04/2021
Wendra R.

United States
Whole Health Eye Formula
I love this product so far! This is my 2nd order and it contains all the nutrients my eyes need as I get older. I love all of Dr Berne's products!
17/04/2021
Barbara B.

United States
Great need for improvemnt
Before you use it you have to receive it. It took almost three weeks to receive it with conflicting days of delivery. How do you think I experienced by order?
13/04/2021
Julie B.

United States
Love it
I definately notice a difference.
02/04/2021
Bonnie K.

United States
MSM Drops
I am thrilled to death with my 5% & 15% MSM eye drops. According to how my eyes are feeling each day I have the option to use the drops that are most needed for that day! They are easy to use & make my eyes feel comforted.
30/03/2021
Judith M.

United States
Health Eye Formula
Just received them today and have not had a chance to use them yet. thanks
29/03/2021
Marcie B.

United States
Seeing more clearly!!
The whole health eye formula helps me see things more clearly. I am able to see things with greater clarity and can decipher details without the need for glasses when taking this eye supplement.
29/03/2021
Peter J.

United States
Review?
Gladly give a review after I have tried it or noticed benefit.
27/03/2021
Diane T.

United States
Whole health eye formula
Approaching my 81st birthday, my eyes are so very important to me, and so along with the MSM drops, exercise and eating properly, I feel I am doing good things that will help!
18/03/2021
Kevan B.

United States